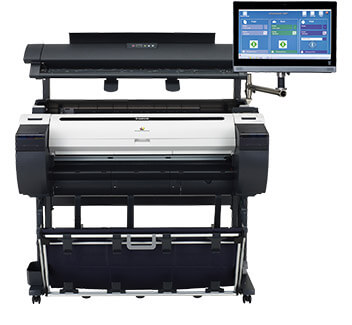 08 Feb

A Look at Our Canon Printers

For business owners and office managers, Canon is often the brand of choice when it comes to choosing a printing workstation. Reproductions, Inc. in Tucson stocks a number of top-quality printers available for purchase or lease. These include two of the imagePROGRAF models. A technician at our print shop will be happy to help you select the right printer for your needs.

All-in-One Printing and Scanning Solution

Our Canon printers are your office's all-in-one solution for printing, scanning, and copying. The Canon imagePROGRAF iPF785 MFP M40 and the imagePROGRAF iPF785 both come fully equipped with the M40 scanner, printer, and SmartWorks MFP software computer. Both models are also equipped with a touchscreen monitor, enabling employees to quickly select the right options.

Rapid Print Speed

Canon's office-ready models are intended to boost productivity. With both of these models, the economy printing mode can print a 24-inch by 36-inch Arch D-sized print in just 21 seconds. And with the increased ink tank sizes, workers won't have to stop as often to insert new cartridges.

Rapid Scanning Speed

Canon's M40 scanner features SingleSensor Technology Assembly. With the included USB 3.0 connection, users can enjoy data transfer speeds up to 10 times faster than previous models. When scanning in monochrome, the device has scan speeds of 13 inches per second. When scanning in color, the scan speed is three inches per second.

File Sharing Solutions

Both Canon models are equipped with Canon's Cloud Portal software. This advanced system makes collaboration a breeze with easy file sharing capabilities. Just log onto your Google Drive account and drag and drop the file you want to scan and share. The Cloud Portal is capable of printing documents from nearly anywhere, and you can even set up batch printing.

Reproductions, Inc. is pleased to be the Tucson area's premier Canon authorized servicing reseller. We offer a complete spectrum of Canon services, including equipment purchases and leases, long-term maintenance plans, and a customizable cost-per-copy program. Call (520) 622-7747 to speak with one of our fully trained technicians.