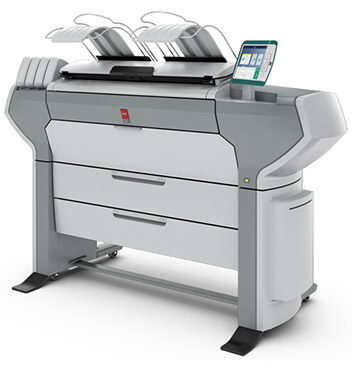 23 Nov

Is the ColorWave 500 Right for Your Printing Needs?

Are you in the market for a large format printer that can handle both color and monochrome jobs? If so, then the Océ ColorWave 500 might be the right printer for your needs. This all-in-one printer offers effortless operation and superior finishing, all within a sustainable and eco-friendly system. Although this printer is capable of performing complex operations with ease, its intuitive design makes it simple for anyone to navigate. Here is a closer look at the ColorWave 500 Printer.

Efficient Printing in a Single Device

Often, large format printers either work efficiently but don't allow you to get all of the functionality that you need, or they have all of the tools that you need but they are slow and clunky. The ColorWave 500 changes all of that. With this single printer, you get monochrome and color printing, scanning, and copying capabilities. This small footprint makes the ColorWave 500 ideal for offices in which space is at a premium or larger businesses who want a printing center that does it all. Thanks to the all-in-one design of this printer, you also save money on buying and powering separate machines.

Intuitive Operation

One hesitation some businesses have about replacing a printer is the learning curve that is often involved in getting a new system. The ColorWave 500 has an intuitive design built around the familiar Océ ClearConnect technology. The interface works like a tablet, so users are able to navigate it easily from the first time that they approach the machine, making the time-consuming learning curve a thing of the past.

Eco-friendly Design

Businesses are constantly searching for ways to go green in the office. The ColorWave 500 system can help you meet this commitment. The unique toner system has no fine dust or odor, and the printer supports recycled paper printing. It also boasts carbon-neutral media and certified de-inking properties.

If you're looking for the right printer in Tucson, contact Reproductions, Inc. to learn more about the ColorWave 500. Talk to a team member today by calling (520) 622-7747.