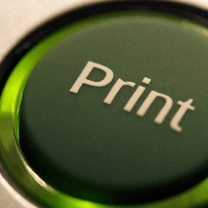 09 Dec

Why Rely on a Professional Printer?

When you have a large printing job that you need to accomplish, you may want to outsource the task to a professional printing company. Your local printers will have all of the equipment and tools that are needed to print your project to your exact specifications on your timeline. Along with ensuring quality results, your professional printer can also save you time and money. Here is an overview of the top reasons to rely on the services of a professional printer.

Capacity for Large Orders

A professional printer will have equipment that is specifically designed to handle large orders. In the event that you need to print off hundreds of sheets, you may want to bring your job to a printing professional. Your printing experts will be able to easily and quickly accomplish your bulk printing job. In addition, bringing your larger order to a professional company can help you reduce wear and tear on your office machine.

High Quality Results

If you are printing out quality color documents, photos, or other professional pieces, you will want to bring your project to a top rated print shop. Your printers will have the training needed to ensure that you achieve high quality results from your project. When you rely on a professional printer, you can also ask for top quality paper and other enhancements.

Added Convenience

Overall, a professional printer will add terrific convenience to your printing project. Rather than struggling to achieve the right results from your printed materials, you can leave your entire project to a team of experts. When you bring your job to a print shop, you will be able to simply drop off your materials and pick them up when they are finished.

To learn more about the advantages of professional printing, get in touch with Reproductions, Inc. From color printing to paper document conversions and more, we are thrilled to provide our Tucson clients with all types of printing services. Give us a call at (520) 622-7747 to schedule a consultation for your upcoming printing project.