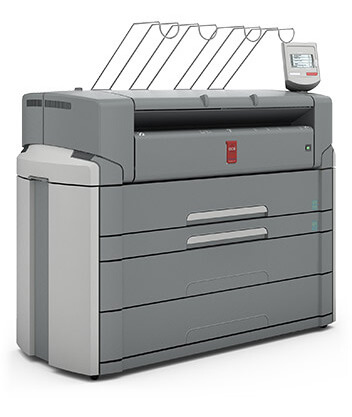 26 Oct

Spotlight on the Océ PlotWave 750

If your business prints large format, black-and-white documents, then the Océ PlotWave 750 could be the right printer for you. This highly rated printer exceeds expectations and gives you greater flexibility for your office printing capabilities. It is an ideal solution for business workplaces that have a variety of different printing needs across departments, without investing in multiple, separate printers to satisfy the demands of each team. If you're considering a new printer for your office, this closer look at the Océ PlotWave 750 may help you make up your mind.

Security

One of the many reasons offices choose the Océ PlotWave 750 printer is that it offers advanced security features to keep sensitive documents secure. Océ Mobile WebTools and Océ Publisher Express software allow your entire team to make chances to documents from anywhere, with integrated security features and antivirus support to make sure that your confidential information cannot be compromised. The embedded controller ensures that the printer is always up to date with the most stringent security standards available.

Maximized Output

The Océ PlotWave 750 can deliver optimum output to allow your business to easily and efficiently meet short deadlines. You can choose between a two, four, and six roll capacity with one or two sheet trays, so you can get the configuration that suits your business. Each roll is capable of containing 650 feet, so you can print up 3,900 feet using a six-roll design without any interruption. Because the printer can be updated in the field, you can make changes to your configuration as needed without a complicated service process. Rolls changes are automated, which further improves efficiency.

Easy to Use

One of the best parts about the Océ PlotWave 750 is that it is easy and intuitive to use. Your staff will adjust to it quickly, saving you from extensive trainings and re-training periods.

Reproductions, Inc. is Tucson's premier Océ Authorized Servicing Reseller, allowing you to purchase or lease this capable printer affordably for your office. Learn more about Océ printers by calling (520) 622-7747.