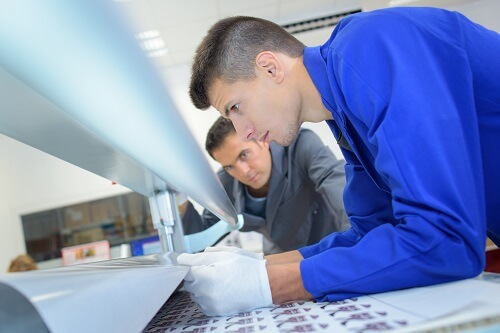 23 Dec

When to Use Lamination

Paper products can become damaged when they are exposed to water, sunlight, and other elements. If you have papers that need additional protection, you may want to consider scheduling lamination services at your local print shop. With proper lamination, you can ensure that your papers are protected and ready for use in your office environment. Here is a closer look at when you may want to consider using lamination.

Signs and Banners

Signs and banners can be used to provide information to your employees, give directions to customers, or offer inspiration to anyone who passes by. When you make a quality sign or banner for your business, you may want to take the time to have it laminated. Lamination will allow your sign to remain in good condition without fading or becoming otherwise damaged.

Instruction Sheets or Maps

If your office uses maps or instruction sheets, you may want to have these documents laminated. Rather than printing off your instructions for each new customer or employee, lamination will allow you to reuse the same sheet again and again. Overall, lamination will help you conserve paper and other resources that would be used to create your instructions.

Name Badges

Employee name badges are an essential feature for many businesses. When you are creating name badges for your workers, it is a great idea to have your badges laminated. Lamination will protect your name badges from wear and tear that can occur during a busy workday. If you are hosting a conference or other event, you may want to offer laminated name badges to your participants.

Menus

For any restaurant, diner or food truck having a durable menu is important to your business to help protect it from being ruined by food or drinks.  Especially if your menu doesn't change very often you can have a resource that can last you and your customers for a long period of time.

When you are seeking quality lamination services in Tucson, be sure to get in touch with Reproductions, Inc. Our print shop offers mounting and laminating services that will help you preserve your printed pieces for many years to come. To learn more about the advantages of choosing us for your printing and lamination needs, give us a call at (520) 622-7747.