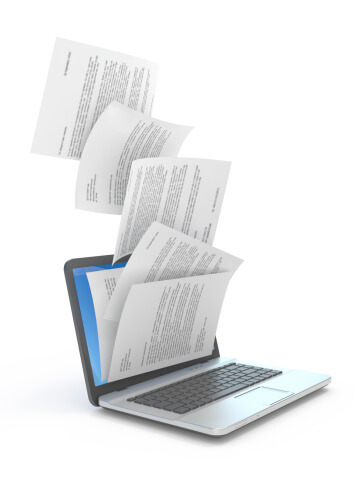 17 Nov

The Process of Paper Document Conversion

No matter how organized you keep your file cabinet, your individual files are still susceptible to a number of threats. A spilled cup of coffee or even a rainy day can tarnish your important files and set you back, which is one reason paper document conversion is so helpful. Here is a look at the process of paper document conversion.

Why It's Helpful

The more important your document is, the more crucial it is that you create a backup. Anything can happen to a single paper document, so it helps to create a digital file with the same information. A digital file can be copied and stored in several different locations at once so that the information it carries will not be lost. Digital files are also convenient when it comes to sending and receiving information, and you can view them on both desktop and mobile devices.

How It Works

Your professional printing service can perform a paper document conversion by scanning your physically printed files. These scans will make digital copies of the files, which you can then easily transfer, organize, or otherwise manipulate. Your newly digitized files can be written onto a CD, stored on an external hard drive, or even loaded onto the flash drive you keep on your keychain. You can also change the type of file to PDF, TIF, or any other format that meets your needs.

Dealing with Large Documents

You might be worried about converting a particularly large paper document into an electronic file. Fortunately many printing companies have specialized scanners that can handle large documents and even fine art prints. Even your largest documents can stay safely on your computer, hard drive, or cloud service.

If you are interested in converting paper documents into electronic files, please feel free to call Reproductions, Inc. at (520) 622-7747. We offer a multitude of printing solutions including paper document conversion. You can find out much more about our services by visiting our website today.