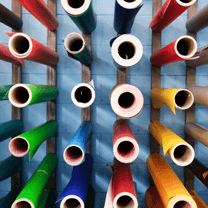 29 Oct

Understanding How Color Printing Works

The world would be significantly grimmer and less vibrant without color printing. Many people appreciate it, and yet the same people might be clueless as to how the process works. From billboards to business cards, color printing is everywhere in modern society.

Repeated Passes

Long gone are the days when monochrome printing ruled the market, and yet these early techniques still prevail. Monochrome printers would pass over the page and press black ink onto a white sheet. Color printers pass over the page in similar fashion, but they press colored ink into the page. They also differ from their monochrome counterparts in that they pass over four times. A color printer does four times the amount of work as a monochrome printer, passing over once for each color: cyan, black, yellow, and red. This is the general process, but it can be done in a few different ways.

Color Combination Methods

Color printers combine these four colors – cyan, black, yellow, and red – in order to produce any color on the spectrum. The way this process works varies from printer to printer. One color printer might add each color to the image one at a time, while others might make use of rotating wheels that sport individual toners and developers for each color. Some of the more elaborate printers might assign a drum, toner system, and laser assembly to each of the four colors.

Color Printing Benefits

In creating these unique designs using just four original colors, color printers are able to create eye-catching pieces. These are used heavily in the field of advertising, and psychologists suggest that certain colors may be associated with different feelings. Color printing mixes four basic colors to create limitless artistic possibilities.

If you still have questions about how color printing works, contact Reproductions, Inc. or visit our website. We offer a range of printing services including full color printing, booklet binding, and office printer supplies. You can find out much more about our printing company by calling us at (520) 622-7747 today.